By The Time I Notice A Leak Under The Sink in Somerset How Much Damage Do I Face?
6/7/2020 (Permalink)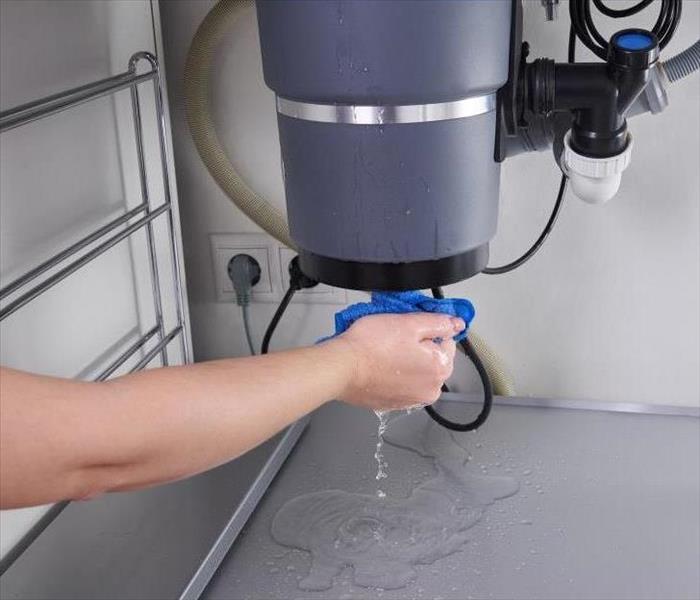 Quick action when leaks happen in your home can result in a successful outcome. Contact team SERVPRO to help with water damage.
SERVPRO Has the Resources to Probe the Water Damage Extent in Somerset Properties and Carry Out the Necessary Restoration
Minor leaks in the elaborate plumbing systems in Somerset homes are a common occurrence. Although the leaks may be small, they can cause widespread damages depending on factors such as the physical traits of the surrounding materials and the time it takes you to discover them and thus take remedial action.
What common issues lead to minor leaks?
Several problems can lead to minor leaks that result in water damage in your Somerset home. The most likely ones include:
Broken seals around pipe connectors
Pinhole leaks due to corrosion
Loose connectors
The plumbing problems in Somerset develop suddenly or over extended periods because of reasons such as:
Natural wear and tear of pipes
Sediment buildup
Changes in water pressure
Temperature fluctuations
Although leaks under the sink are the most common, leakage can happen anywhere, including concealed areas such as within wall cavities, ceilings, and attics, or basements. The leaks under the sink are easier to notice because the spilled water is likely to collect on the floor below, prompting you to investigate the source of moisture as you clean the area. However, leaks from plumbing lines in concealed areas can take long to discover, thus leading to widespread damage to surrounding materials.
What signs indicate a hidden water leak?
Although a leak may be out of sight, some signs can help you notice when there is a problem.
Appearance of patches or dark spots or surfaces
Development of a musty odor
Low water pressure
What problems emanate from the hidden water leaks?
Although the leak point may be hidden, the water released still causes problems. Microbial growth, which leads to mold infestation, is a common outcome of such water leaks. The appearance of patches or spots on walls surfaces can indicate an ongoing water leak within the wall cavity. Alternatively, you might experience a musty odor within the property. Mold can be a serious problem that takes considerable resources to resolve. For instance, performing controlled demolition in the affected areas is a typical response since it helps remove spoiled materials and clean mold residues.
Sometimes the water leak may not lead to visible physical damages, but you might notice other changes within the property such as low water pressure or inexplicable increases in your water bills. The spilled water also evaporates, which might increase the humidity levels in your house, thus reducing the level of comfort.
There is a leak, what next?
After identifying the leak, several steps may be necessary, depending on its severity. The standard response might include:
Fixing the leak or replacing the pipe
Removing materials damaged by moisture
Drying residue wetness
Cleaning the affected areas
If the leak results from severe damage such as pipe corrosion or broken joints, you might need to replace some sections of the plumbing. Such repairs require assistance from a professional plumber who can identify the best course of action. Leaky pipes can be fixed through pipe clamps, use of epoxy products, pipe wraps, and replacement of sections of the damaged pipes. After resolving the leak, thorough cleanup around the damaged area or the entire property is necessary to deal with any form of soiling. Water intrusion soils property in many ways, including spreading residues such as dust from one area to another. It can also cause deterioration of materials such as chipping of paint, thus increasing the soils.
Our SERVPRO technicians use different approaches, including mopping and wet vacuuming, during water removal. We also tear open wall panels or cabinet siding damaged by the water. Opening up such areas also helps create better access for cleaning.
Leaving the affected areas wet can lead to the recurrence of problems already resolved, such as deterioration of materials and mold development. For the best outcomes, fast drying is also essential. Several factors help improve the drying process, including:
Improved evaporation
Heat
Extraction of moisture from the air
Our SERVPRO crews are well equipped with devices such as air movers to improve the evaporation rate and dehumidifiers to extract moisture from the humid air. The dehumidifiers exhaust warm air, which re-circulates back into the property. In case extra heat is necessary, we have portable heating units allowing us to remove all excess moisture from your property, "Like it never even happened."
SERVPRO of Southeast Somerset County can help restore your New Brunswick, North Brunswick, or Franklin Township property to its preloss state after a hidden water leak. Call us any time at (908) 251-9097 to help.