Preserving Somerset County History After Fire Damage
12/6/2020 (Permalink)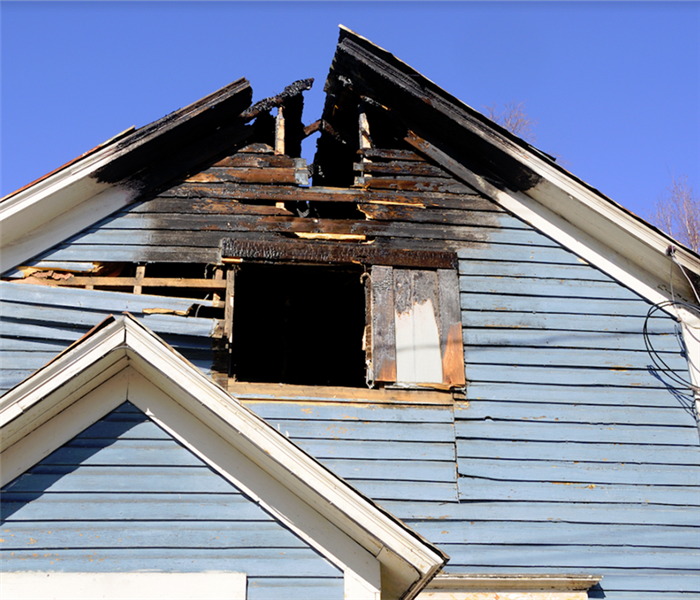 It can be quite overwhelming when you are facing fire damage. SERVPRO can help with the remediation process. Call us right away.
After a fire, restorers must carefully clean and recover historic properties.
New Jersey has always been one of the most historic locations since the earliest settlements of America's newly forming colonies. Somerset County has been an influential part of this growth and evolution, housing some of the most significant battles of the American Revolution and being a haven for the Continental Army's patriots through some of the war's tremendous hardships. With many of the towns like Somerset and Franklin Township chartered during the mid-1700s, structures built at this inception that remain today are a treasure worth protecting.
Historic Properties in Southeast Somerset County

Whether it is mold that could develop from elevated moisture in the region to the potential for complete or superficial fire damages, historic properties and landmarks throughout Somerset County must get protected. These buildings and areas offer their significance to the state's history and growth over the centuries. Some structures serve to showcase popular architectural decisions of various eras in America's life, while others have been influential locations or historically significant. Some of the most popular of these include:
The Meadows – This is a house in Franklin Township initially constructed in 1722. Upon construction, the property was close to 800 acres and was placed on the Raritan River and a major route to connect it to settlements and traders. Today, the structure exists as a living museum of 18th-century architecture and life.
Rockingham – This property was built around 1710 by the merchant John Berrien but did not take on the name it is now known by until more than 70 years later when the property was for sale. This location would be General George Washington's final headquarters and station during the American Revolutionary War.
Tulipwood – This is a property that exemplifies the shingle style made famous during the 1800s. The majority of this house was constructed in 1892 as a prestigious property for Stephen Guion Williams of the renowned Williams & Guion Black Star Line company. The house and the land have also been known as Whitehaven Farms by many over the years.
Rocky Hill Historic District – At the center of Rocky Hill, some of the most recognizable and renowned historic properties exist. From the Rocky Hill Inn constructed around 1830 to the Parsonage for the Dutch Reformed Church built around 1858, many protected buildings showcase the history of Somerset County.
Six Mile Run Historic District – This subsection of Franklin Township has become a popular destination for travelers looking to tour some of the area's older structures and get a feel for its history. An excellent example of this is the Van Liew-Suydam House built in the 18th century, the Hageman Farm from the early 19th century, and the Wyckoff Garretson House constructed in 1730.
Middlebush Village Historic District – As another section of the Greater Franklin area, Middlebush has multiple historic properties, landmarks, and older buildings contributing to a protected region. There are 37 properties that make up this district, though some of its most renowned include The Middlebush Reformed Church (1919), the Voorhees House (1719), and the Middlebush School (1926) that has now become the area Board of Education building.
Kingston Mill Historic District – This protected area in Somerset County shows some of the earliest architectural styles of settlers and colonists in the 18th century. As one of the original settlements for Princeton, NJ, the original and newer Kingston Mills still stand, the first being constructed in 1755 and the newer built near the 20th century in 1888. There is also a stone bridge built in 1798 to replace one destroyed by the Continental Army to slow British advancements.
King's Highway Historic District – This is one of the original main roadways designed originally to connect Boston and Charleston. There are many historic properties laid out along this path where the Revolutionary War's influential battles were fought. The road passes through Somerset County and features many landmarks and buildings along the route that were historically significant to the success of the Continental Army during America's battles for independence from King Charles II, whom the roadway was initially named after.
Museums Protect Somerset's History and Culture

One way we work to protect our heritage and illustrious history spanning centuries is to document these times and events in museums and cultural centers. Each of the prominent eras is represented by the artists and people who endured them and continue to be an inspiration and educational opportunity for curious individuals. These include:
Ukrainian Museum of New Jersey
Princeton University Art Museum
Old Millstone Forge
Cleaning Up Somerset Homes After Fire Damage

Fire losses are among the most devastating disasters that impact Somerset County homes, as these situations can develop from hundreds of potential sources. Addressing a fire's effects can require both our building trade professionals and experienced Fire & Smoke Restoration Technicians (FSRT.) This effort begins with emergency services conducted as soon as our team first arrives.
Emergency services are a blend of general contracting needs and mitigative tasks that lessen the ultimate loss of a property and the cost of restoring it. Temporary repairs of structural breaches and controlled demolition are two examples of how our in-house contractors can help. Debris removal is also an instrumental action taken to reduce the severity of hazardous or discomforting effects in the house like noxious odors or carcinogenic soot particles.
Removing soot from the environment and surfaces requires a combination of advanced equipment, detergents, and solvents. Air scrubbers and hydroxyl generators utilize onboard HEPA filters that can capture particulates as small as 0.3 microns. Removing the bulk of circulating ash and soot can reduce hazards to those exposed and prevent smoke residues from becoming thicker and less manageable.
Addressing the effects of fire damage in Somerset homes and businesses involves our skilled technicians and our inventory of industry-leading tools and products. Whenever disaster strikes, our SERVPRO of Southeast Somerset County team can mobilize quickly to make it "Like it never even happened." Give us a call today at (908) 251-9097.