What Concerns Does Basement Flooding Cause New Brunswick Homes?
1/14/2022 (Permalink)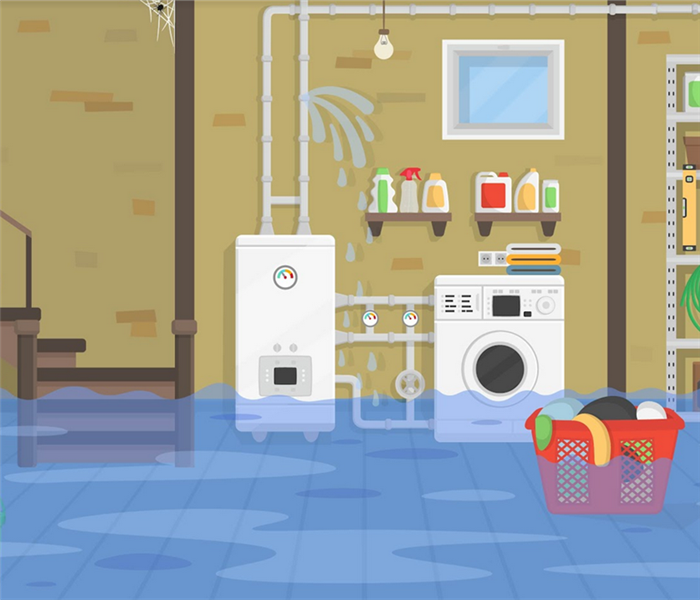 Basement flooding can damage both the structure and the contents of your home. Contact our trained technicians 24/7 for water removal and cleanup.
Flood damage in New Brunswick basements requires fast action with the immediate threats that result.
The basement is among the most diversely used in many homes throughout the area. Some properties have finished this lower level to create new work or living space, while others maintain a rough concrete floor and use the basement to store seasonal items or keepsakes. However your home manages this subterranean level, flooding can be destructive and compromising when disasters strike.

Standing Water Concerns
Penetrating water causes flood damage to New Brunswick basements, making water removal services one of the more critical and crucial mitigation options available from our SERVPRO team. In the basement, the added several feet of discharge head for needed extraction usually requires more powerful removal units like trash pumps or high-pressure pumps to resolve several inches or more of standing water.

Content Damage and Ruin
Stored items in the basement require immediate attention to prevent considerable and permanent damage. Flooding can overwhelm many types of storage units, saturating both these receptacles and the objects inside. Our professionals need to work fast to protect affected contents when possible. We can offer services like:
Item by item inspection
Surface cleaning
Disinfection
Drying
Moist Conditions and Contaminants Encourage Mold
Flooding and its potential contaminants and microbes increase the likelihood of secondary effects like mold and fungal threats. Persistent damp conditions can exist with poorly managed flood cleanup, especially when professionals are not immediately notified of the needed restoration work. We have AMRT-Certified mold removal specialists to help overcome active colonization following flooding.
Flooding presents multiple threats and risks for area homes, so when these conditions exist, our SERVPRO of Southeast Somerset County team must act fast to help. We have powerful mitigation solutions for extraction and disinfection cleaning to make flood losses "Like it never even happened." Call today at (908) 259-6603.