Mold Damage Cleanup for Somerset Residents and Businesses
4/10/2023 (Permalink)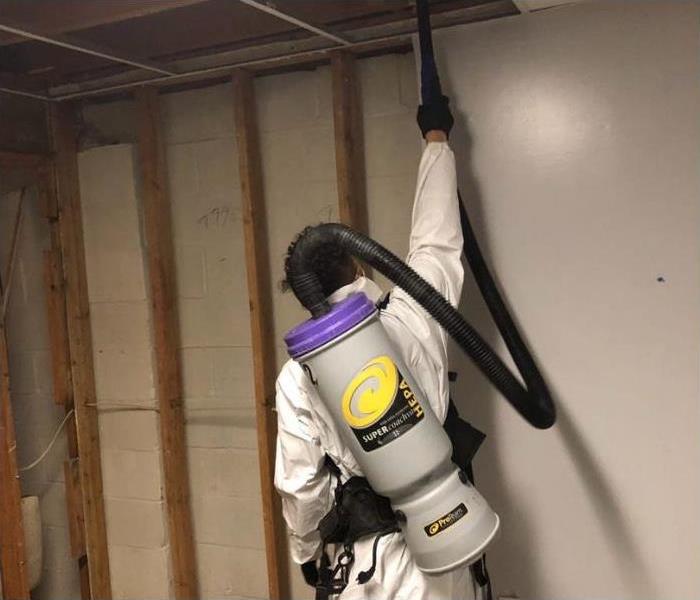 SERVPRO uses the latest technology and equipment for every mold damage remediation job in Somerset. We are Here to Help.
Contact SERVPRO for Safe, Reliable Mold Damage Assistance in Somerset
Many people mistakenly take mold cleanup into their own hands, only worsening the issue. While there may be DIY methods listed online or products on the shelves that claim to help with mold removal, only professional mold remediation services do the trick. Mold contamination within your Somerset property can bring secondary damage to your contents and structure. It is prudent to contact SERVPRO to get safe, efficient solutions and the thorough cleaning you need.
Why is professional assistance with SERVPRO best for handling mold damage in Somerset? We take the time to determine the cause of the mold issue, then follow through with debris removal and cleanup of all spore colonization on surfaces. This gets followed up with detailed cleaning and sanitizing to ensure safety, so your property is "Like it never even happened."
Our team works in ways to avoid aggravating your mold issue or endangering others within your home or business. We have IICRC-certified technicians that understand best practices for microbial remediation, performing safe, effective cleanup where you need it when you need it. We work to:
Find the cause of the moisture problem that caused mold to develop. This could be a hidden pipe leak, a failed attempt at water removal services that left moisture behind, or a lack of ventilation.
Limit the spread of microscopic mold spores into unaffected areas of your property. We put containment barriers in place with plastic sheeting and use negative pressure. All our crew members wear foot coverings to limit possible tracking into unaffected areas.
Know the dangers of exposure. Our technicians all wear the appropriate personal protective equipment; goggles, coveralls, gloves, boots, and respirators.
What is Involved in Mold Assessment and Mitigation?
Once we arrive on your property, our technicians thoroughly assess all areas of suspected mold growth. We will:
Check sites for hidden moisture
Confirm all levels of material deterioration
Identify all spread patterns of the mold
Determine all that can get salvaged and what has been impacted to the point of being no longer salvageable
When taking on a mold remediation project, SERVPRO technicians follow best practices according to S520 standards within the manual for the IICRC (Institute of Inspection, Cleaning and Restoration Certification).
Mold Removal Vs. Remediation - What's the Difference?
Microscopic mold spores are naturally present everywhere, including inside and outside. Because of this, total removal is not possible from any home or business. Some restoration companies might advertise mold removal, but this is a fallacy. Rather than guarantee complete mold eradication, SERVPRO promises to follow best practices to eliminate as much mold as possible. We then follow with EPA-registered products for a thorough cleaning, disinfection, and deodorization so that you can breathe easy again.
Odor Control is Paramount With Mold Restoration Projects
SERVPRO technicians have been trained to identify and eliminate any malodors during each project we get called to. With mold remediation jobs, this means handling foul, musty odors. We never take shortcuts or mask odors but select the best equipment and products to help eradicate them. This gets done, so there is no lingering reminder of the event.
Depending on the mold cleanup job we get called to, many specialists may be at work to get you the results you need. These techs may include:
Water Damage Restoration Technicians
Applied Structural Drying Technicians
Odor Control Technicians
Applied Microbial Remediation Specialists
We use controlled demolition measures for building materials that must be removed and replaced due to mold infestation or moisture damage. - General Contractor License #: 13VH06622700
Get in touch with us at SERVPRO of Southeast Somerset County by calling (908) 251-9097. We can send a crew out as soon as possible to begin mold damage restoration.