Prompt, Effective Water Damage Services are the Best in Somerset
4/10/2023 (Permalink)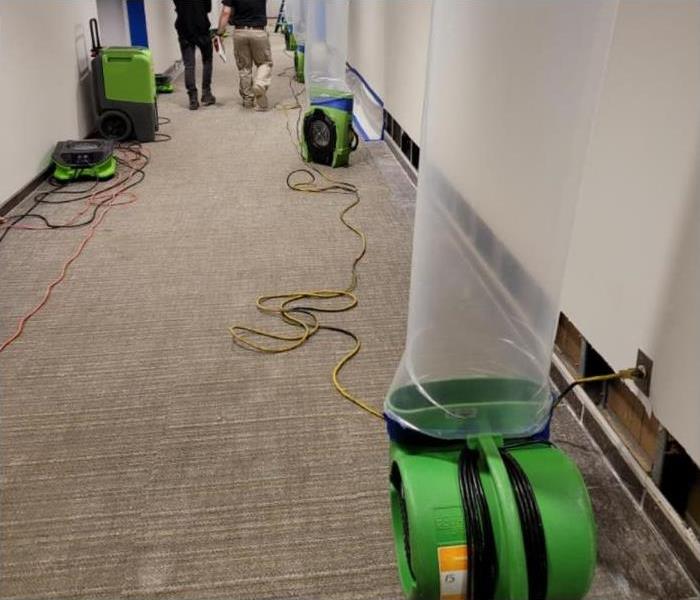 SERVPRO technicians can restore all types of water damage in Somerset, no matter the size of the disaster.
Somerset Property Owners Trust SERVPRO for Water Damage Restoration
With any water emergencies like ceiling leaks, flooding, water spills, and burst pipes, Somerset residents can count on SERVPRO for rapid response and quality services. Our franchise is locally-owned and operated, and we take an interest in the livelihood of businesses and customers in our area. We like to provide prompt, reliable cleanup and water removal services to get back to your routine faster. To do this, we utilize a broad spectrum of high-grade equipment, tried and true methods, and the knowledge of our IICRC-certified restoration experts. We make everything "Like it never even happened" a fraction of the time that a DIY project could.
When you have any water damage in Somerset, it is best to contact our SERVPRO customer care team to mobilize our Green Fleet to your door. Once the necessary information gets collected, we load the vehicles with the right equipment for the job so that we can get started within hours. We're Faster to Any Size Disaster – ensuring you get the results you deserve.
Pro Tip – Beginning water mitigation efforts sooner than later cuts back on the impact of whatever spill or water infiltration your property is experiencing. The quicker our team gets in to halt water migration, the easier it is to eradicate moisture to stop secondary damage and the possibility of microbial growth.
We have protocols in place for every type of restoration project we begin:
Once we arrive, our crew chief assesses your property to determine the type of water event, any damage, hazards, and materials impacted.
A plan is devised that involves selecting tools and equipment for water removal services, drying, and dehumidification.
Containment measures get put in place, and extractions begin along with debris removal if any.
Our Green Fleet: You will see these iconic, well-marked vehicles arriving at your door. Each one gets packed up with the water removal equipment, EPA-registered cleaning agents, and specialized drying tools that we need to handle your water restoration project.
24-Hour Response Times Matter in Water-Related Incidents
Emergencies never wait for the right time, so having our contact information handy is beneficial should you have a water incident within your home or business. Our crews are on standby to provide our customers with the water and fire restorations they need when they need them. Some of the water-related projects we often get called to include:
Toilet, sink, and tub overflow
Hidden pipe leaks and water damage
Appliance malfunctions; water heaters, dishwashers, washing machines, etc.
Burst pipes
Basement floods, storm flooding, sump pump failures, etc.
And more
Our Skilled Crew Knows How to Handle Dehumidification and Drying
During your project, once standing water gets removed with the help of truck-mounted extractors, submersible pumps, or gas-powered pumps, we pay special attention to the humidity levels inside your property. We use drying and dehumidification equipment in unison to help us achieve our goals to lower relative humidity (RH) to normal levels. Failure to address ambient moisture and hidden moisture pockets could lead to costly water damage to building materials or black mold growth.
Centrifugal air movers and desiccant dehumidifiers help to remove moisture. We adjust our equipment as we work, often adding or removing pieces to get the results we need.
Our skilled technicians are constantly checking progress with the help of moisture detection tools – sensors, borescopes, meters, and thermal imaging technology.
In some instances, airflow may be increased around furnishings, over the flooring, and across walls to help boost the evaporation process.
SERVPRO of Southeast Somerset County is there whenever you require professional water damage services. Call our offices at (908) 251-9097 to mobilize our crew to your door!